Representatives from British Virgin Islands and Monserrat have put their mass rescue plans to the test in two table top exercises.
Run by search and rescue specialists from HM Coastguard, US Coastguard and with help from MRCC Fort De France, the exercises allowed the participants to work through their mass rescue operation plans. It's part of work run by the Maritime & Coastguard Agency for the Conflict Stability and Security Fund, funded by the UK Government.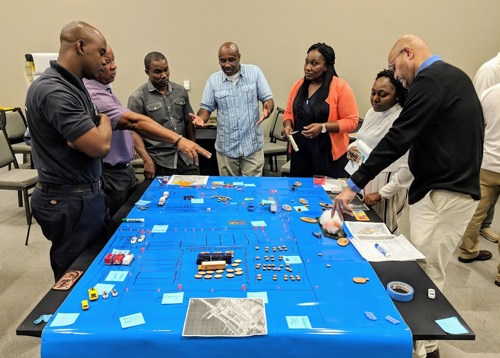 Observers from other Overseas Territories shared their expertise and experiences as the plans were played out over an interactive tool kit.  
Lively discussions highlighted changes that not only those playing but all the Overseas Territories can adopt, helping them to be prepared should their Mass Rescue Operations plans need to be put into action.
Sheniah Armstrong, Planning and Preparedness Manager, Department of Disaster Management, British Virgin Islands, said: 'It has been exceptionally beneficial to test out our plans during an exercise, as well as having the opportunity to continue to build working relationships across SAR authorities and providers.
'Hopefully we'll not have to implement our Mass Rescue Operation Plan but having that established working relationship and sharing of expertise and cooperation will enable us to be better prepared.'