Expertise from across the maritime world has been brought in for pollution response training in Montserrat.
Organisers said all those involved in the training had worked very hard and got to grips very quickly with the spill kit they were using which was supplied by Elastec in the USA. The trainer was the company's vice-president Stewart Ellis.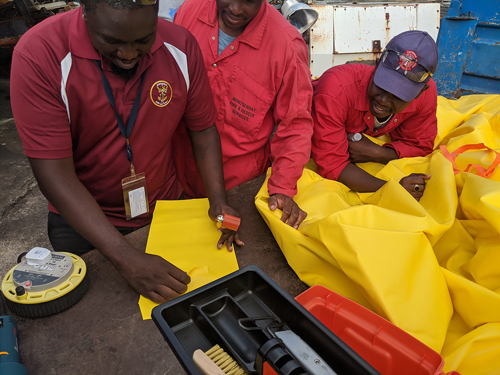 Joseph O'Garro, manager of the Montserrat Port Authority said: "It's very important to be prepared for the worst even though we hope we will never have to use this training we have received. Our commitment to protecting our coasts means we need to have these skills in place to deal with every eventuality."
The work is funded through by the UK Government through the Conflict Stability and Security Fund and administered by the Maritime & Coastguard Agency.
Alison Leighton who manages the CSSF project on behalf of the Maritime and Coastguard Agency said: "This funding is really important as it helped source the kit and the training to use it. It's enabled us to bring in trainers like Stewart, who has a level of expertise which the team in Montserrat have been keen to learn from.'