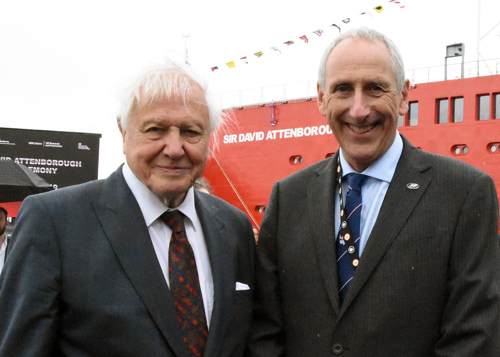 A ship named after a famous British television naturalist is the newest addition to the Red Ensign Group family of registries.
The Royal Research Ship (RRS) Sir David Attenborough, has been flagged to the Falkland Islands and was officially named in a ceremony held quayside in Birkenhead, near Liverpool, UK.
Commissioned by Natural Environment Research Council, built by Cammell Laird and operated by British Antarctic Survey, the new research platform will carry out work in the Polar regions.

Sir David Attenborough said that the ship's role would be vital: 'This astonishing ship will find the science with which to deal with the problems that are facing the world today and will increasingly do so tomorrow.'
He said it had been a great honour to have such a ship named after him.
The Duke and Duchess of Cambridge were also at the naming ceremony and the Duchess officially named the new ship.

Speaking after the event, Captain Chris Locke who heads the Falkland Islands Maritime Authority said: 'It's a great honour to have such an important scientific boat on the Falklands flag and a reflection of why the Red Ensign has the reputation it has.'
Among those attending on behalf of the Red Ensign Group were Katy Ware, Richard Pellew and Alan Holmes from the Maritime and Coastguard Agency and Charlie Mumford of the Cayman Islands Shipping Registry.