Three Coastguards from the UK and a representative from the French Coast Guard have been working with emergency organisations in Montserrat giving training on coordinating search and research incidents, as part of ongoing collaboration and support within the Red Ensign Group.
Members of the Royal Montserrat Police Service Marine Unit, Montserrat Fire and Rescue Service and the Royal Montserrat Defence Force. Training covered practical skills of coordinating search and rescue incidents within their territorial waters. It also included training around working effectively with the regional authority for search and rescue – Maritime Rescue Coordination Centre Fort de France and CROSS Antilles-Guyane.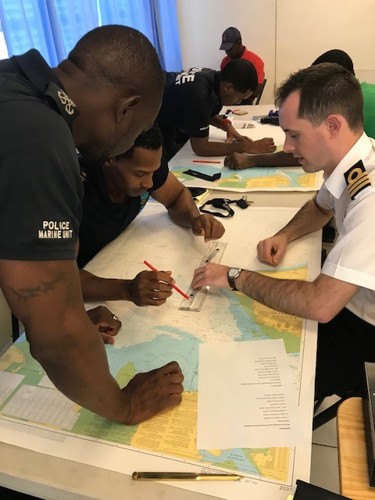 Rob Priestley, international projects coordinator for HM Coastguard, who was one of the trainers said: 'The assistance of the French search and rescue authorities in delivering this training in Montserrat has been invaluable this week. It shows how much can be achieved when working closely with regional partners. The successful completion of this training course, by enthusiastic and interested participants, helps move Montserrat one step closer to establishing a fully functioning SAR capability.'
This work is part of the Maritime & Coastguard Agency's Maritime Obligations and Contingent Liability Risk Reduction Search and Rescue Capability Project supported by the UK Government Conflict, Stability and Security Fund.