World-class large yacht expertise from across the Red Ensign Group will be leading the way at the Superyacht Forum being held in Amsterdam later this month.
A team from across the REG, including Bermuda, Cayman Islands, Isle of Man and the United Kingdom will be at the RAI for the Forum which this year runs from 18th to 20th November.
Once again, the group is a major sponsor of the event and once again it will be holding sessions in the Red Room for delegates to attend.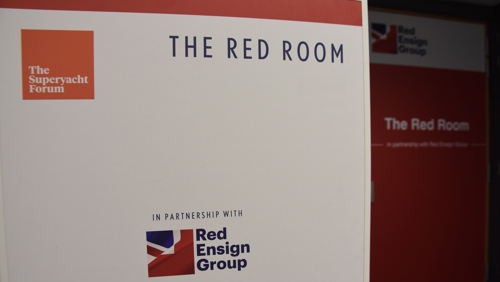 Graham Candy, from the UK Ship Register, is coordinating this year's Red Ensign Group attendance. He said: 'We'll be holding two sessions in the Red Room this year – we'll be announcing what those subjects are next week but we can guarantee they will provoke lively interest and debate.'
Chris Boreham, chief marine surveyor from Bermuda said: 'I'm looking forward to engaging with the large yacht industry about all that the REG has to offer in terms of support and advice. We're available across the event for anyone to talk to us at any time.'
Greg Evans, global director with the Maritime Authority of the Cayman Islands also co-chairs the Red Ensign Group's Technical Forum. He said: 'We'll have a lot to talk about with those attending in terms of our safety-driven regulation and how it affects the large yacht sector. We know the challenges that are faced and we work hard to help and support those dealing with them.'
Director of the Isle of Man Ship Registry, Cameron Mitchell said that it was important for the Red Ensign Group to be at the heart of the event: 'We know from our experience with the launch of the Red Ensign Group Yacht Code that people in the industry set great store by what we do. I'm expecting a lot of interest in the sessions that we are running.'
The Superyacht Forum runs from 18th to 20th November at the RAI in Amsterdam.