An international workshop sharing expertise of search and rescue planning has been hailed a success by those who took part in it.
The event organised by Coastguards Phil Bostock and Rob Priestley as part of the Maritime & Coastguard Agency's commitment to improving search and rescue capability for the Overseas Territories, brought together representatives from Anguilla, Bermuda, British Virgin Islands, Cayman Islands, Montserrat and Turks and Caicos Islands.
Alastair Robertson, Director Air Navigation Services of the Cayman Islands Civil Aviation Authority said he had really enjoyed the workshop: 'It was interactive and informative and brought together all the constituent parts of a search and rescue plan. The experience and commitment of the presenters to improve the search and rescue capabilities across the Overseas Territories was evident throughout.'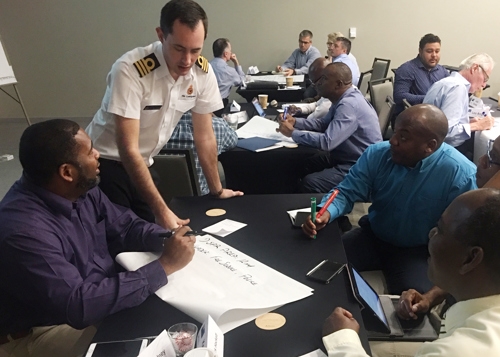 Sarah Lee from Air Safety Support International said 'It was a well-planned and delivered workshop that was informative and also created the right environment for delegates to build their own team relationships as well as establishing new connections with colleagues from other Territories.'
Phil Bostock said: 'There are two fundamentally important aspects to these workshops. The first is sharing the expertise and helping to support the Overseas Territories as they look to improve their search and rescue capability. The second is that bringing together all stakeholders helps them to build the relationships which will prove invaluable in an emergency situation.'
The work is part of the MCA's Maritime Obligations and Contingent Liability Risk Reduction Search and Rescue Capability Project supported by the UK Government Conflict, Stability and Security Fund.